---
Type "day trader" into the Google search box and the system will return thousands of photos with a stressed guy staring into many monitors at once, trying to understand the market psychology. Good news: this iconic image is a bit outdated.
With these five Olymp Trade's analysis tools, you can save a lot of time on research and avoid the risks of reading those Forex tea leaves.
All the much-needed info may be handed to you on a silver platter. Keep reading to know how you can enhance your trading skills with helpful tips and insights.
1. Advisors
It's a built-in digital assistant that tracks your chart behavior and locates optimal entry points for trades. The Advisors tool sits at the bottom of the Indicators section on your trading screen.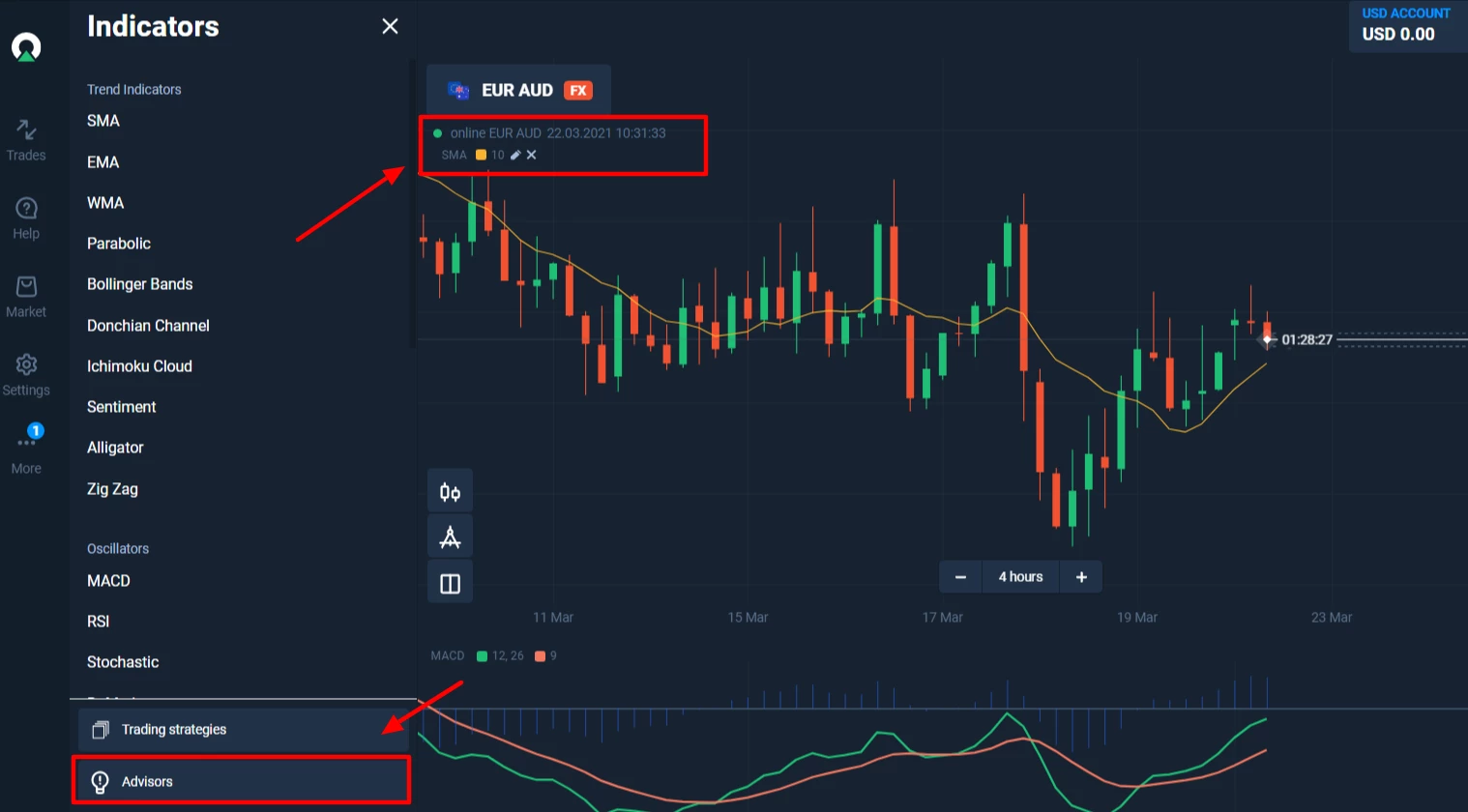 Advisors can be matched with any of these 3 popular strategies:
MACD Professional (combines 3 different indicators);
The Simple Moving Average Intersect (combines 2 SMA with different timeframes)
Predatory Look (combines 2 different oscillators).
You can use this tool in the Forex or FTT mode, with any asset available on the Olymp Trade platform. The idea is to notify you of great opportunities the preferred strategy suggests, but it's up to you to decide if you are willing to take this opportunity and how much money to invest.
Ready to give it a try? First, read the detailed description of the tool in this article.
2. Insights
It's a built-in Fundamental Analysis tool that you can use to get a brief up-to-date asset review. To see Insights, go to the Help section on your trading screen. Note that you can customize your feed by choosing the assets in the Preferences.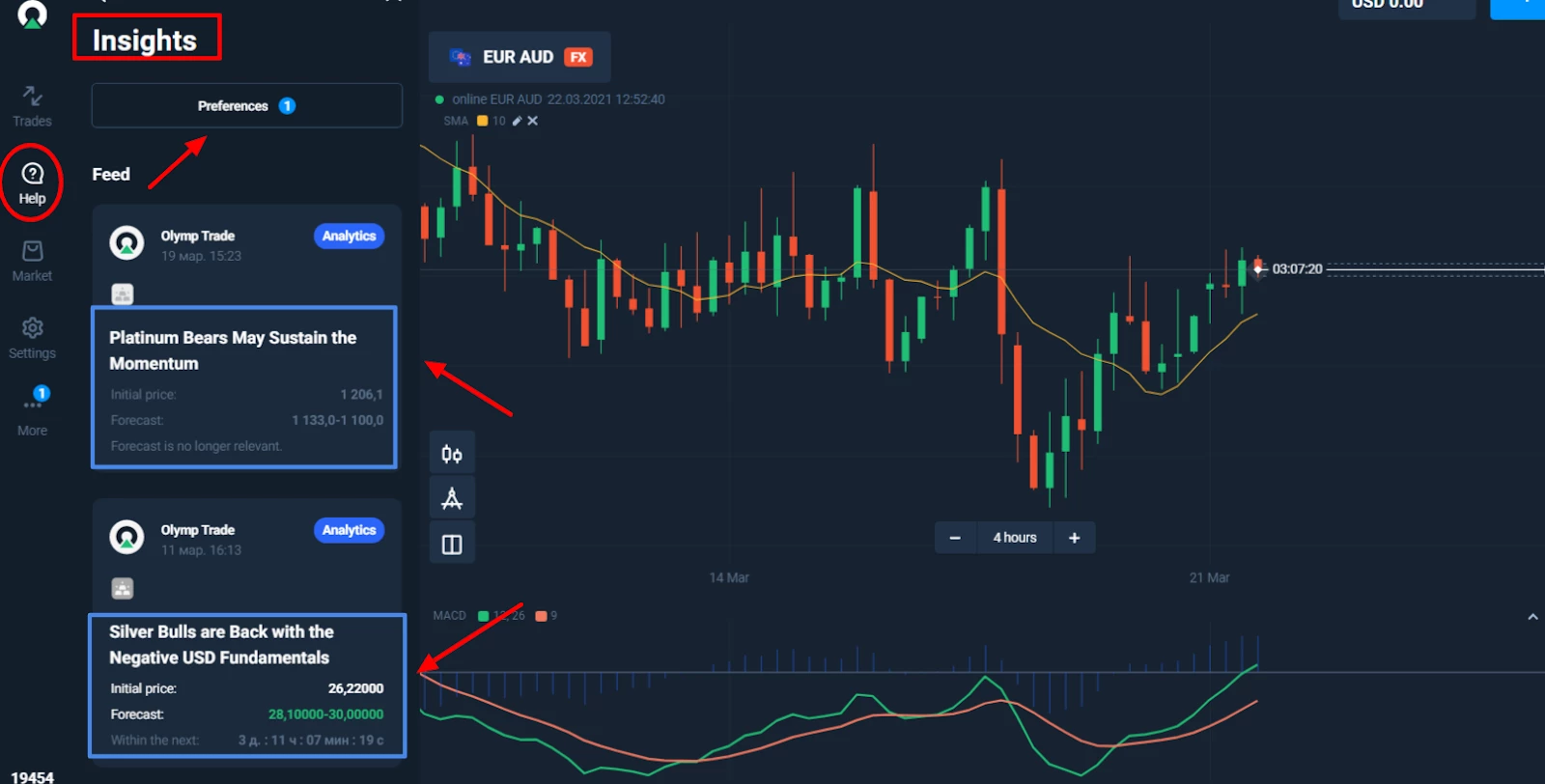 The Insights feed includes big market news, the asset's current price, and forecasts. Instead of processing tons of information trying to separate waste rock from gold specks, outsource this task to the team of experts behind our Insights tool. In case some event might trigger a price change, the tool alerts you about this opportunity. For a busy person, it's a game-changer.
For instance, if the upcoming earnings report of ABC promises to be great, the Insights tool may alert you about a possible price spike. Conversely, if ABC's CEO got involved in a massive law battle that may negatively affect the company's bottom line, you know it's time to go short.
With Insights, you always have this early bird advantage. To know more about how the tool works to your benefit, see this detailed article.
3. Automated Advice in Asset's Description
For active day trading fans, having real-time data at hand is crucial. This is when our Automated Advice tool comes handy. Just click on the Info icon in the list of assets to access the key data and basic settings.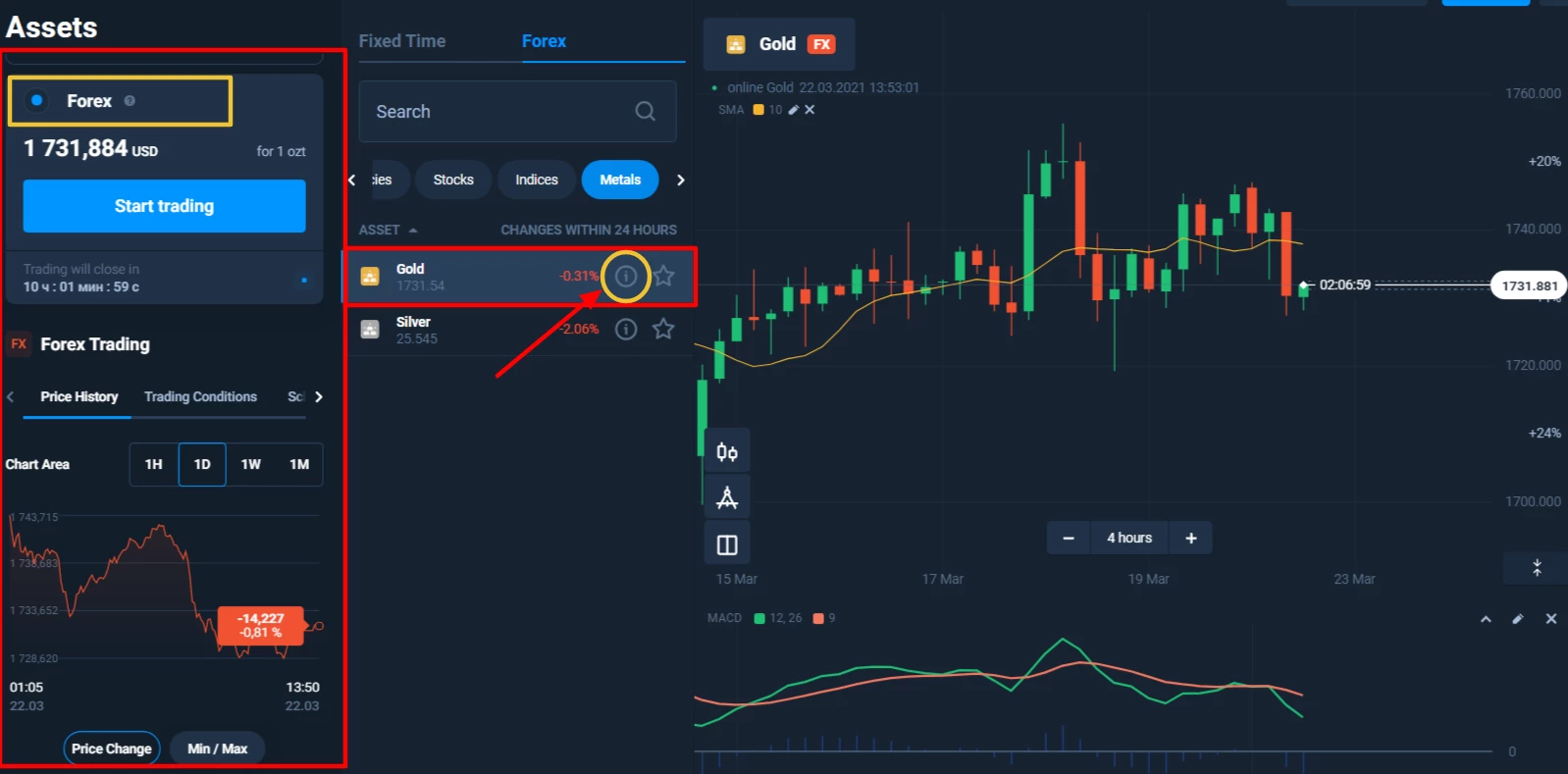 Here, you can quickly switch between Forex/FTT modes, see the price history for the chosen asset, and follow this price's real-time movement. Also, you can display a mini chart with a 1D, 1H, 1W, or 1M timeframe. It's super convenient when you need the pattern on the main chart zoomed in or out.
Go to the platform to apply this wonderful tool to your favorite asset.
4. News, Analytics, Guides
Need a more comprehensive picture of the market situation? Start your trading day by checking out our blog's Analytics section for daily and weekly news, market overviews, latest trends, and forecasts. Also, we do recommend you to visit the Education section. It contains many useful articles on different types of assets, Technical & Fundamental analysis, and more.
If you are ready to dig deeper, it's time for Analytics & Trading Recommendations for Expert clients. As the name hints, you need an Expert Status to access this blog section, but it's totally worth it.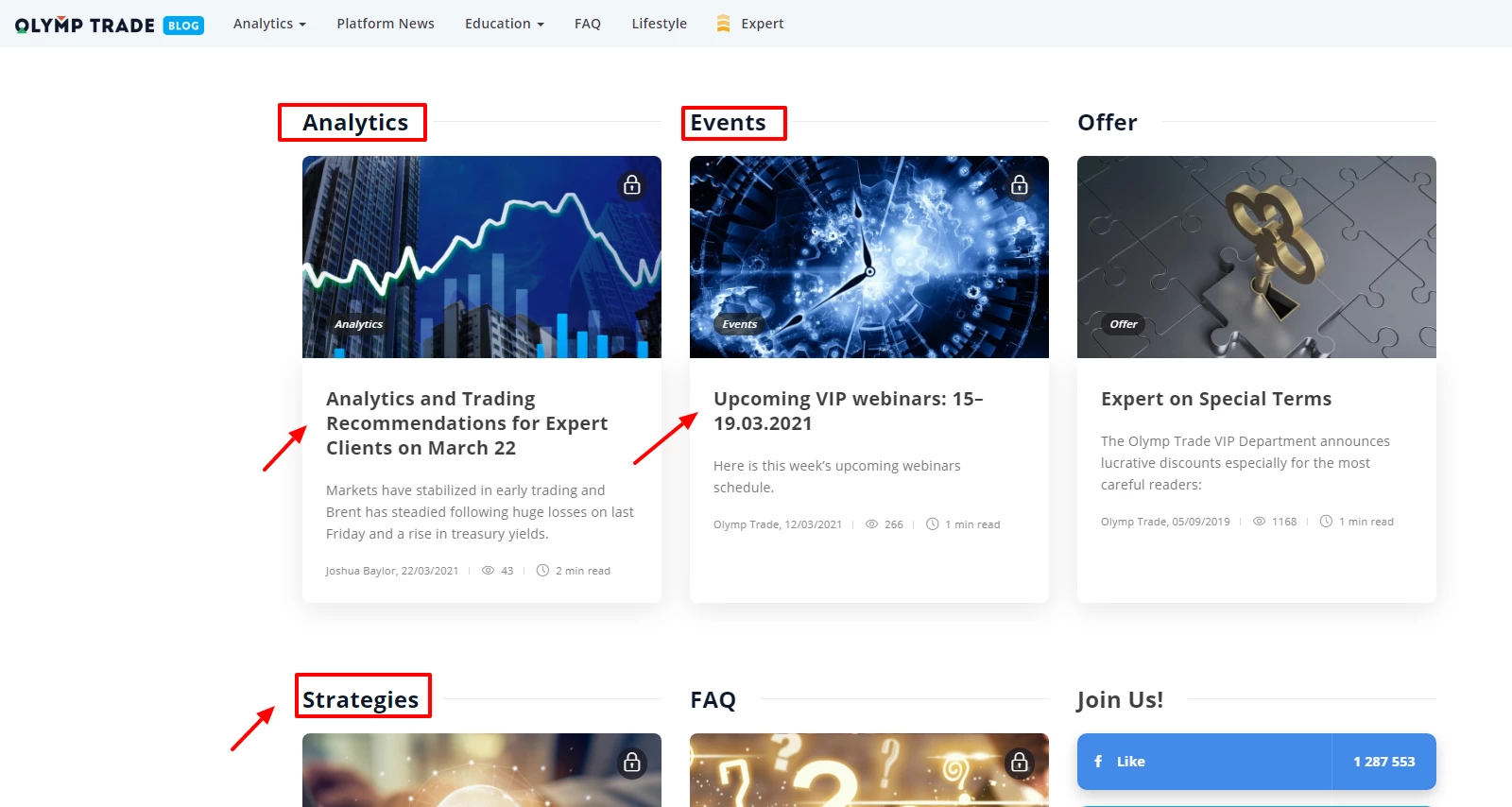 This box of cupcakes contains Daily Market Analysis with TA-based forecasts, how-to guides on our best Expert-only strategies, and the schedule of VIP webinars by Olymp Trade's leading analysts. In case you missed a class or are in the mood for revision, the Expert section stores the links to our past webinars.
5. Trading Ideas
Let's see how Olymp Trade's market analytics may help you make profits even if you lack Forex trading skills. A perfect example would be Tesla, the biggest news in stock price movements.
"Tesla has lost over $250 billion in market cap in the last couple of weeks. As a result, shares of Tesla stock have plunged from nearly $900 to $562 currently. This may be an excellent time to get value as the company is still successful, and the stock will likely bounce back."
That was the Trading Idea for March 9, 2021 posted in our Telegram channel. Now, let's use the recent chart for some future-in-the-past review.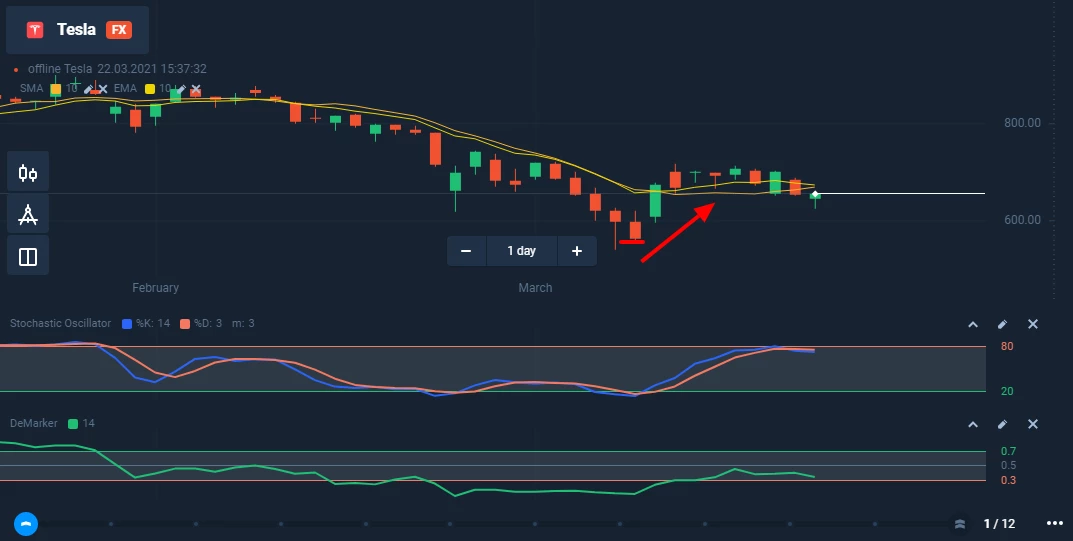 The low point underlined on the chart is the end price on March 8th. Our suggestion was to Buy on March 9th ahead of the market open. As you can see, there was a huge jump in just one day. Those who took our expert's advice had a nice cash flow.
Recap
Hopefully, we have highlighted some of the instruments that could take your trading business to the next level. Remember to activate them next time you visit our platform.
As always, if you have any additional questions or feedback, feel free to contact our Customer Support team.