---
The Average True Range (ATR) technical Indicator is an indicator of the current asset volatility. In other words, it shows the average statistic of the movement of an asset per unit of time.
The indicator was developed by J. Welles Wilder, first introducing it in the book "New concepts in technical trading systems" in 1978 (the average sales of this bestseller are 36.000 books a year). Initially, like most other indicators it was created for commodity futures, which are more volatile than stocks, and for end-of-day prices, but now are used in the Forex market as well as in other time periods.
Together with two partners, J. Welles Wilder the younger organized the construction of 1.035 apartments in five cities in the states of North Carolina and Virginia. When the apartments were almost completed, the partners wanted to buy out his share in the project. By agreeing on a fair price (partners bought out his third for $100,000), at 38, Welles Wilder gets this money, and begins to study the art of stock trading.
Now J. Welles Wilder is 87 years old, he lives on the beautiful Southern Island of New Zealand. He described the experience of the years he lived in his last book "The Wisdom of the Ages in the Acquisition of Wealth", which says that if he knew in his youth what was written in this book, he would be much richer than now. Its indicators are considered basic for many technical analysis programs and are included in most modern trading terminals:
● Parabolic-Sar
● Average True Range
● RSI
● Average Directional Index (his favorite indicator)
ATR was not created to predict the direction of the tool movement. The average true range does not aim to make any prediction. The average true range is exclusively designed to describe the current volatility of the asset, and was developed as an additional technical analysis tool that should only be used in combination with other technical indicators and overlays. Thus, the Average True Range is an auxiliary tool for analyzing a financial asset.
Setting the indicator
---
To configure the indicators you must enter a separate window of the Technical Analysis on the Olymptrade platform. The indicators are found in the section Tendencies when selecting "Indicators form" in the Indicators tab: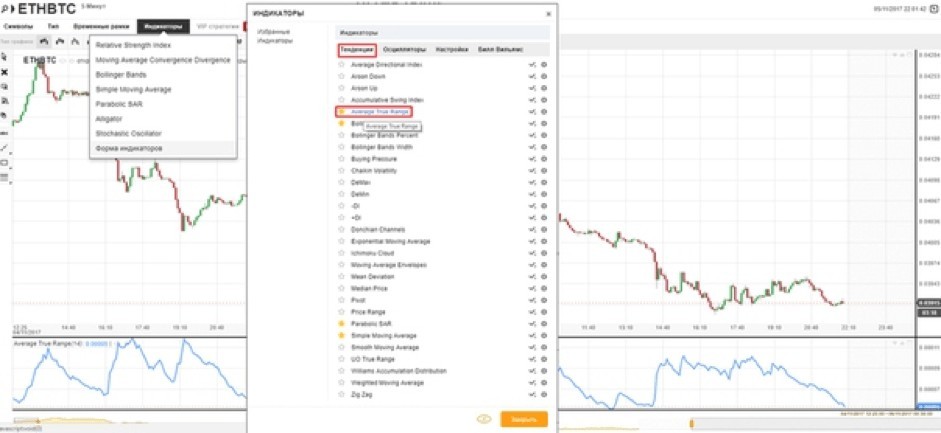 Settings of the indicator (period) should be left standard – 14.