Crypto trading: how to determine whether a broker is reliable?
---
What you should pay attention to when choosing the platform
Choosing a trading platform is an essential part of successful crypto trading. Both beginners and experienced users have to answer the question: "Which terminal or exchange to choose?"
Of course, you can use complex multi-functional programs. But we recommend that you pay attention to the Olymp Trade trading platform, which is chosen by thousands of traders from around the world for its convenience and user-friendly interface.
Why do they choose it? That is what we are going to tell you about in this article.
Reason One:
guaranteed safety
Large cryptocurrency exchanges experience hacking incidents that lead to losses of clients' funds. After such thefts, some companies had to declare bankruptcy and leave the market.
When working with crypto assets on the Olymp Trade platform, you do not acquire physical digital money. Therefore, there is no need to register a cryptocurrency wallet. You are simply not in the risk zone.
The company guarantees the safety of your funds and protection of the positions you open.
A trading account is secured by binding it to a mobile phone number. To exclude the possibility of third-party access to your trading account, you can turn on two-step authentication. In this case, an SMS with a one-time password to enter will be sent to the number you have added.
Reason Two:
interface
It takes a few minutes from registering an account to making the first trade on a demo account. Each block of the trading platform is designed to meet the needs of novice traders. Therefore, you can understand the interface at the very start.
You can easily find the most popular indicators and other technical analysis tools. Experienced investors will appreciate the opportunity to look at various types of price charts (bars, candles, Heiken-Ashi) on time frames from 15 seconds to 1 month.
To access a certain group of assets quicky, a user selects the necessary tools from a special menu. Then they appear in the panel above the chart. This is how available cryptocurrencies can be chosen.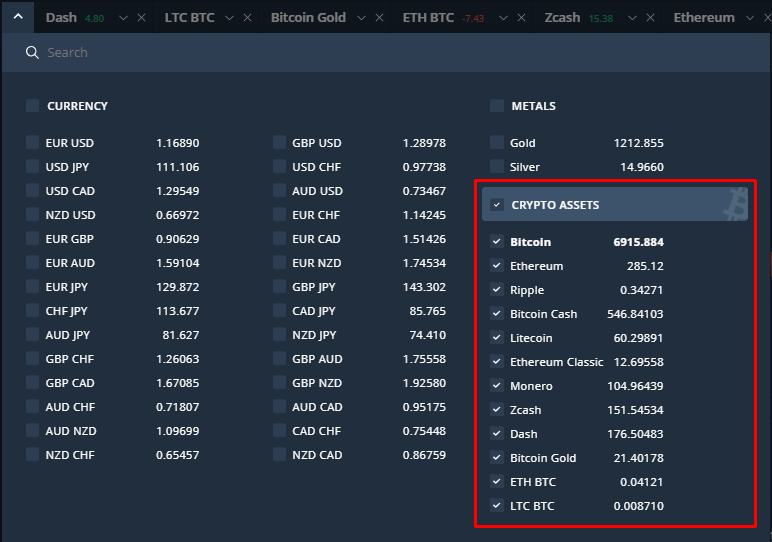 And this is not a complete listing of interface solutions for traders. Discover them all on the Olymp Trade platform.
Reason Three:
financial terms
A Bitcoin costs more than $ 6,000, but this does not mean that you need this amount to short or long it.
The minimum deposit to start trading is only $ 10 / € 10 / $ 350 / $ 20R. You can open a position on any crypto asset with as much as $ 1 / € 1 / 100₽ / 2R $.
An important advantage of Olymp Trade is that the company pays a fee for withdrawing funds from the platform. Thus, you can save hundreds of dollars.
Reason Four:
everything is under control
A real trader should always have direct and quick access to the market. Thanks to the Olymp Trade mobile app, a user can open or close a trade, look into the account details, check the quotes and place a withdrawal request at any time.
The official app can be downloaded from the App Store and Google Play. You will enjoy the mobile version, which has almost the same functionality as the desktop one.
https://play.google.com/store/apps/details?id=com.ticno.olymptrade
https://itunes.apple.com/ru/app/olymp-trade/id1053416106?mt=8
The Olymp Trade platform has everything that both beginners as and professional traders need: comfortable financial terms, clear interface solutions and many useful services.
Just start using it and see for yourself!
Start trading