Successful traders make use of a number of strategies whenever they trade on the financial market. Each approach has its perks — big and small — depending on market conditions and the trader's mindset.
The cryptocurrency market is among the most well-known and volatile markets, where prices rise and fall rapidly. A scalp trading strategy is ideal for taking advantage of these price movements, which last for seconds or minutes ⏱
This article will cover scalp trading in crypto and how to use this strategy effectively on Olymp Trade to make profitable trades.
Contents:
Interact with the underlined words and green dots to get additional details and explanations.
Scalp trading in crypto: Quick definition for beginners
There are four popular trading strategies that investors or traders follow depending on their risk profile and objectives: day trading, swing trading, long-term trading and scalp trading.
Scalping in crypto is a trading strategy where you make multiple trades quickly in a short period of time to get a repeated profit. It has been prevalent recently due to the volatile nature of cryptocurrencies.
How does scalp trading work?
Here we will explain step by step, with real examples, how scalp trading in crypto works and how you can do it on Olymp Trade.
First, you will need to take these steps for your scalp trading strategy to work:
Choose the crypto you want to trade
Use a short time frame (from 15 seconds to 15 minutes)
Always fix a stop loss and take profit in advance (applies for the Fx trading)
Study the market (with the help of trading tutorials)
Practice your scalp trading strategy with a free demo account.
For profitable scalping, you need a top-notch platform that provides immediate order execution.
Scalp trading in crypto: Real examples
The
Bitcoin chart below shows that we took two short scalp trades using the RSI, the MACD indicator, and a determined resistance level.
This is a 1-minute time frame
Bitcoin chart, which is suitable for scalping, as it allows us to detect several signals throughout the day 🔽
At above 70, the RSI was overbought, the MACD line crosses from above to below the signal line, and we had difficulty surpassing the resistance at $22,922.
That indicated a bearish signal, so we made a short-sell trade on Bitcoin around the $22,910 level.
We shorted at $22,919 for the first trade and $22,888 for the second 💸
We had to wait several minutes before the
Bitcoin price started falling.
You can see that the market tried to test us just after 05:00 and make us get out of the trade by breaking the resistance level at $22,922 🔽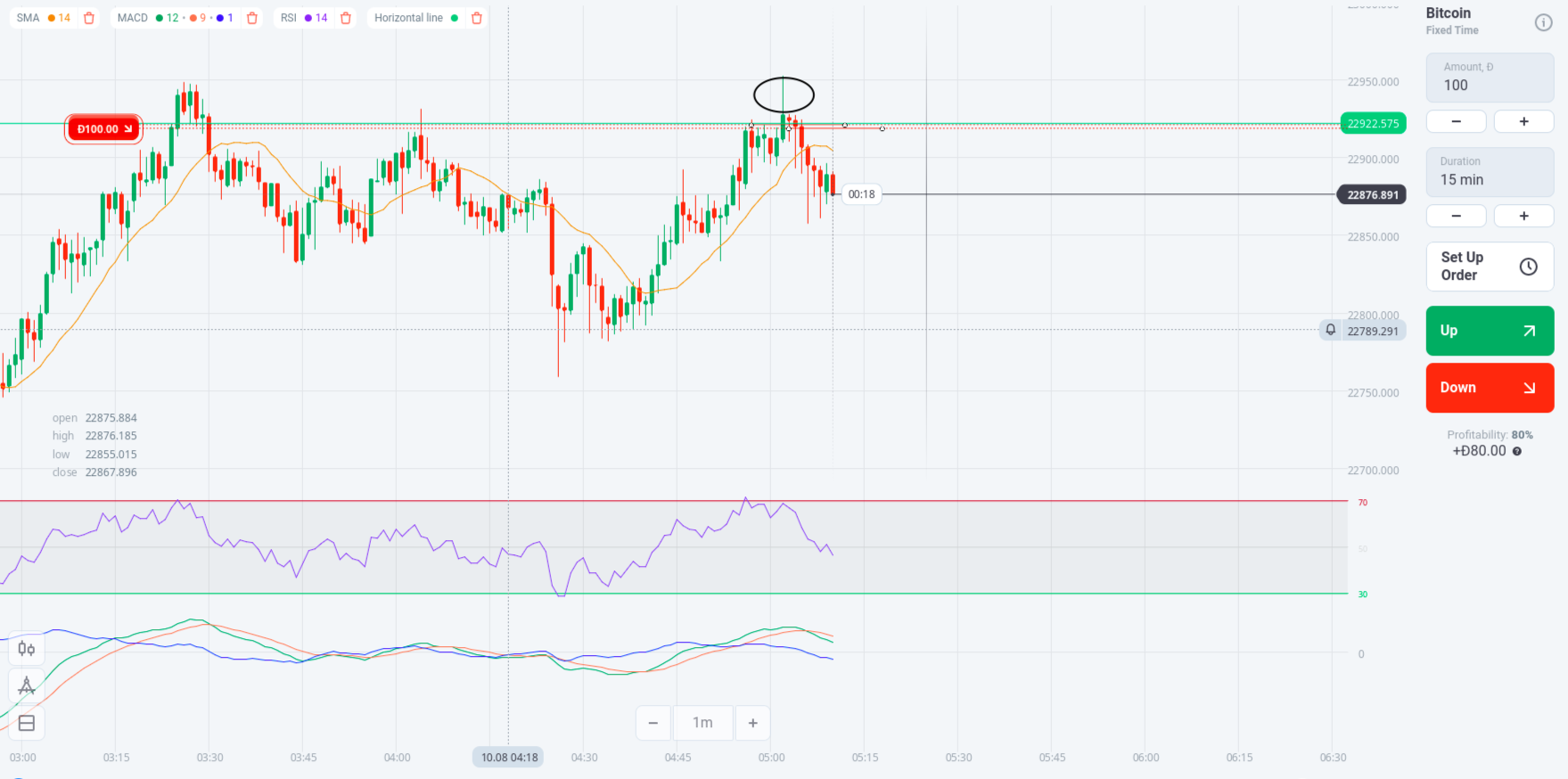 Beginners and amateur traders might quickly exit the trade at a loss, thinking that the price was against them, but they would be making the wrong decision.
If you follow your plan and believe in your strategy, you will know that markets always test your nerves.
After 15 minutes, we can see that we made an 80% profit for the first trade, which opened at $22,888 and closed at $22,879.
The duration of each trade was 15 minutes, as a price reversal at this level has historically taken 15 minutes to occur, so we have a high probability of success.
For the second trade, we also made an 80% profit, opening at $22,921 and closing at $22,880.
Is scalping crypto profitable?
Generally, if done the right way, scalping crypto trading can be pretty advantageous.
You only need to follow this rule: Profits from winning trades must be greater than losses from bad transactions.
If 60% of your positions are winning trades, you will still be profitable in the long run.
Scalping can be very stressful, so you need to have the right mindset before getting into it. However, having the right strategy and following strict money management rules (only risking 1% of your capital on each trade) will help you become a successful scalp trader.
How do you become a good crypto scalper?
To excel at scalp trading, try to follow these five tips:
Train your mindset to stay calm
Follow a trading plan, even if you just had a losing trade
Keep learning
Always use a stop loss and a take profit
Use a top platform
Best indicators for scalping crypto
Olymp Trade offers the finest tools and learning materials to assist you on your trading journey.
We recommend using multiple indicators and tools to get the best signals. Note that determining solid supports and resistances works well when scalp trading in crypto.
Olymp Trade gives you all the tools and assistance for a great trading experience.
Which time frame is ideal for scalping crypto?
Scalpers prefer a short timeframe to trade on, as their objective is to get as much profit as possible in the shortest period of time possible.
They also might make dozens of trades in one day, which is complicated when using a candlestick graphic with each candle representing four hours.
So, the recommended time frame per trade ideally varies from 1 to 15 minutes, but you need to test it yourself via a demo account to see which one works best with your strategy.
Bottom line
Scalp trading crypto is a terrific way to make money in a short period of time, but knowing how to operate this strategy is fundamental.
A robust platform like Olymp Trade will simplify the entire process, as it has all the tools a good crypto scalper needs for success.
Open an account and start scalp trading crypto with low fees and a high probability of returns.
Go Trade Crypto
Risk warning: The contents of this article do not constitute investment advice, and you bear sole responsibility for your trading activity and/or trading results.