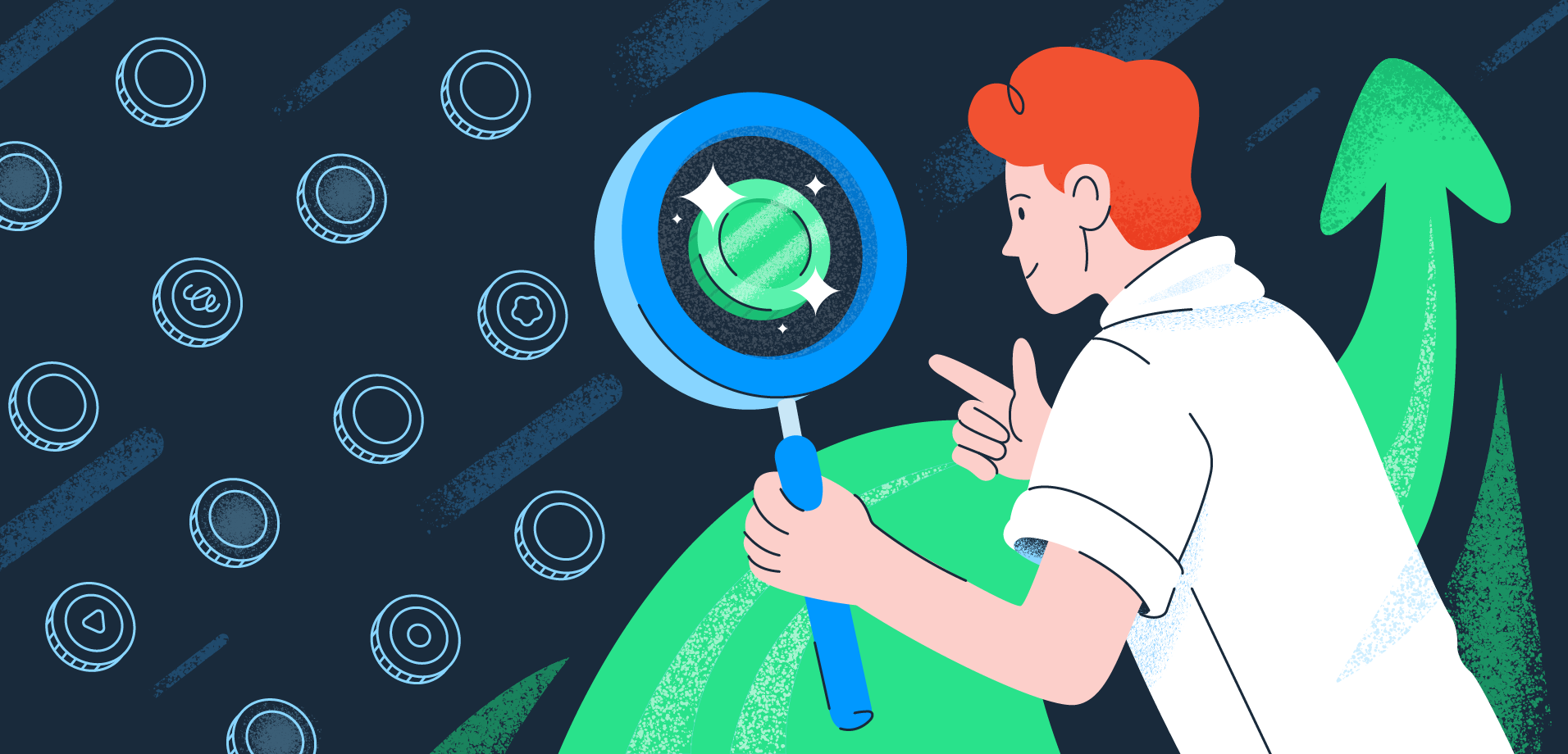 The cryptocurrency market is highly volatile, but that doesn't mean there isn't money to be made. For those looking to take advantage of the market swings, penny stock strategies can be used to make a killing in the crypto market. In this article, we discuss how.
Contents:
Interact with the underlined words and green dots to get additional details and explanations.
What is a Penny Stock?
Penny stocks are those that trade at a cheap price, have tiny market capitalization, are frequently volatile, and are usually listed on smaller exchanges. Because of their lack of liquidity, these stocks are regarded as very risky, but can offer a high return if the stock price increases. For investors looking to make a quick profit, a penny stock trading strategy can be a great option.
Using Penny Stock Strategies to Take Advantage of Crypto
There is a lot of money to be made in the cryptocurrency market. At any moment, there can be growth and crypto to the moon. However, it can be a volatile and risky investment.
By using penny stock strategies, traders can profit significantly in the crypto market. As mentioned earlier, one of the characteristics of penny stocks is tiny market capitalization. Therefore, using the strategy in the crypto market would involve cryptocurrencies with low market capitalization such as altcoins. Altcoins are alternative cryptocurrencies to
Bitcoin. There are thousands of altcoins, and many are created every day. Altcoins are often very similar to
Bitcoin, with only minor differences to take advantage of anywhere
Bitcoin is lacking.
These differences include:
The proof of stake mining method used by altcoins distinguishes them from Bitcoin in that an investor's mining power is directly proportional to the number of coins they own. Block creation and new transaction validation take less time because of this.
It is more convenient and easier to mine altcoins. They can be mined on any computer, unlike Bitcoin mining which requires the use of sophisticated hardware.
Many altcoins are more flexible and allow the creation of smart contracts and NFTs. Their versatility makes them compatible with a variety of decentralized applications such as play-to-earn games, exchanges, and DeFi protocols.
Considering all above, you can think of an altcoin as a penny cryptocurrency or penny crypto. Focusing on volatile cryptocurrencies with low market caps makes you more likely to find hidden gems. Their value can grow exponentially in a short period, thereby sending this crypto to the moon.
The best way to find these volatile cryptocurrencies is by doing technical analysis on them. The price patterns of cryptocurrencies can help you forecast their future movements. One of the most popular price patterns that you can use to forecast the future of cryptocurrencies is the Head and Shoulders pattern.
This pattern is created when the price of a cryptocurrency reaches a new high, followed by a pullback, and then another rally to a new high. This pattern is often used to identify a potential trend reversal.
Below is an illustration of an Inverted Head and Shoulders (Upward Reversal) with the following characteristics:
A downswing is followed by an equal rise to form the left shoulder.
The head is formed by a long-term downtrend that dives notably lower than the left shoulder and is followed by a full reversal up to the base level.
The right shoulder is formed by another downtrend that starts at the base of the head and is followed by an equal rise.
Before the upward reversal, this pattern is usually noticed. Get ready to buy once you see it.
If you see the Head and Shoulders pattern forming, it is important to get in on the early stages of the rally. This is because the pattern is often followed by a sharp rise in prices. The bottom of the head and shoulders pattern is often a good time to sell, as the price may be heading down again.
Below is an illustration of Head and Shoulders (Downward Reversal). It is the following characteristics:
The left shoulder is formed by an upswing followed by an equal drop.
The head is formed by a long-term uptrend that peaks notably higher than the left shoulder and is followed by a full reversal down to the base level.
The right shoulder is formed by another uptrend that starts at the base of the head and is followed by an equal drop.
This chart pattern usually occurs before downward reversals, so prepare to sell.
What are the Risks of Trading Crypto with Penny Stock Strategy?
Penny stock strategies can be a risky proposition. One of the biggest risks of penny stock trading is the possibility of fraud or failure of the project. In the crypto sphere this leads to "dead coins". Dead coins are digital assets that have failed in some way. They may have been created with faulty code, been subject to scams, or simply failed to gain traction with users. As a result, they are no longer traded on exchanges and have little to no value. There are many scams out there, so it's important to do research before investing.
Another risk is that altcoins are often very volatile, and this probable quick movement is why the strategy should only be used with proper analysis and on a good platform. Also, altcoins tend to follow Bitcoin's direction. With Bitcoin currently in a bear phase, the prices of several altcoins may remain below-par. However, do not forget that at any moment, an event can occur that will send your chosen crypto to the moon.
Finally, it can be difficult to find good information about penny stocks. Be aware of this and trade cautiously if you don't feel comfortable with the information you have access to.
With Olymp Trade, traders don't face such risks. On the platform, you can invest in crypto, including altcoins, without directly purchasing them. Instead, you trade on the movements of cryptocurrency and prevent having more significant losses. Also, Olymp Trade provides you with useful materials, insights, and market analysis, which helps you get only reliable info, monitor the volatility of tokens and react instantly.
Trade Penny Crypto on Olymp Trade
Let's have a closer look of what Olymp Trade is offering to crypto lovers. Here are the relevant underlying assets available on the platform:
Basic Altcoin Index: The exclusive index reflects the trading dynamics of popular altcoins. The index shows the quote ratios of 70 alternative cryptocurrencies to the price of Bitcoin.
Ethereum: Ethereum is one of the most popular cryptocurrencies. It is not only a means of payment but also a popular blockchain platform for third-party projects.
Litecoin: Litecoin is a cryptocurrency that is the basis for the peer-to-peer payment system of the same name. It appeared as a result of a Bitcoin fork, becoming the second such currency after Namecoin. (Namecoin is a blockchain with a token forked initially from Bitcoin software, used to represent ownership of a domain name)
Want to investigate how trading altcoins works in practice or stick with
Bitcoin? 😄 Go to the Olymp Trade platform, train using the demo account, then move to your real account once you're confident in your trading skills. Trade and analyze. Sooner or later, you will experience "crypto to the moon" yourself. As the platform never makes you hold your crypto assets, there is much less risk and you're still able to benefit off the volatile crypto market.
Trade Crypto
Risk warning: The contents of this article do not constitute investment advice, and you bear sole responsibility for your trading activity and/or trading results.