---
The use of mobile devices in modern trading is such a common occurrence that it is almost impossible to imagine a good platform without an app. Olymp Trade is not an exception here, and today we'll talk a closer look at Olymp Trade mobile apps and how to work with them.
While some people might look down on mobile apps for financial uses, but they are behind times on this front. As mentioned, most serious trading platforms already have mobile apps which are not worse than desktop and web versions in any way.
Olymp Trade was among the first companies to jump that bandwagon. It currently boasts Android and iOS mobile apps with vast arrays of trading instruments, available on-platform features and bonuses, as well as unique Quality of Life improvements for trader's convenience.
How to Find and Install the Olymp Trade Mobile App?
Before you can enjoy the functionality of the app, you need to find and install it first. Thankfully, it is really easy to do.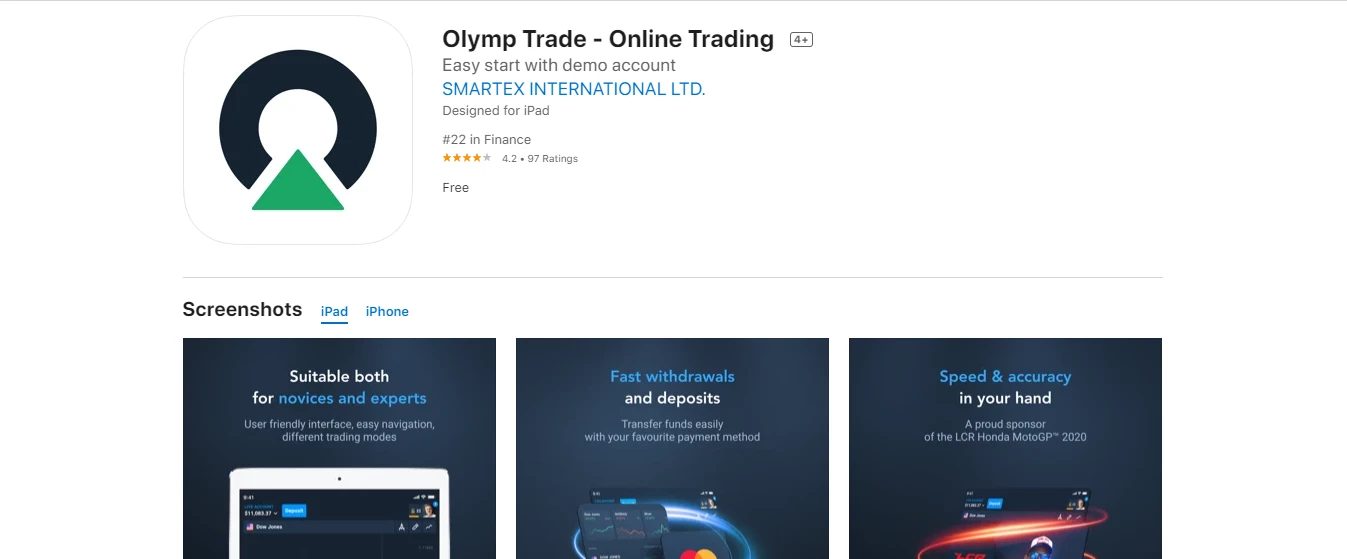 Android
For Android, you can just go to the Google Play app store, type in "Olymp Trade" in the Search field, and then choose the "Olymp Trade – Online Trading App." Or you can simply use your mobile device to go there via this link.
iOS
Pretty much the same as with its Android counterpart, the iOS version can be found on the Apple App Store. Similarly, you need to enter the "Olymp Trade" in the Search and choose the "Olymp Trade – Online Trading" among the results. Alternatively, you can follow this link on your mobile device to get the app quickly.
And with that, you become one of the proud users of the Olymp Trade mobile app, with all the cool features it offers now and which will be added later on.
How to Register and Log In to Mobile App?
The process of registering and logging in to the Olymp Trade platform is pretty straightforward. It is intuitive and well-designed, so you shouldn't have any problems with it. Still, to be on the safe side, we've decided to give you a short instruction on how to do just that.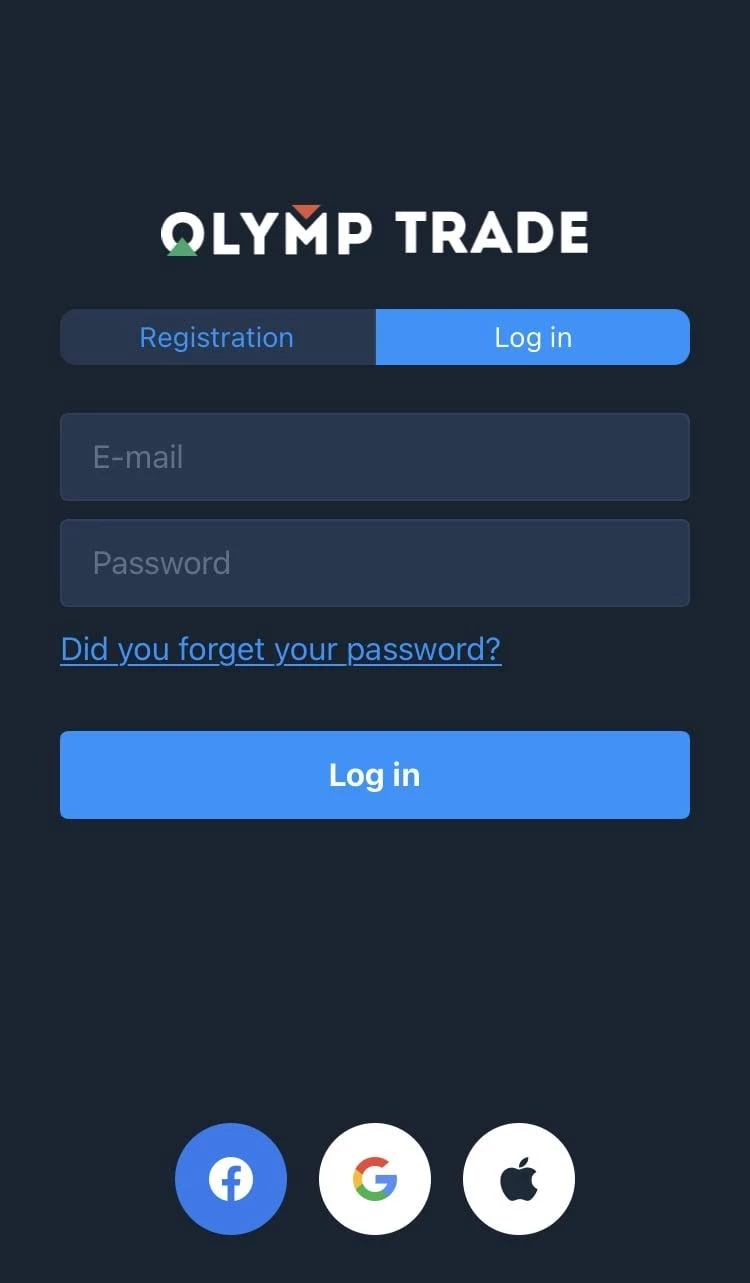 Let's start with registration:
Download and install an Olymp Trade app;
Open it;
Choose "Registration" form;
Provide your email;
Create a secure password;
Pick your trading account currency (USD or EUR);
If you want to make a deposit right off the bat, you can easily do that by using:
bank cards;
e-wallets;
a cryptocurrency.
Select "Live Account" or "Demo Account".
As you can see, it is a straightforward process that does not require much from you. Just follow the instructions from the app (or this article), and you'll be all ready to go in no time at all.
Now, let's talk about logging in. Similarly, it is quite simple; to enter your profile and start trading, you need to:
Open the Olymp Trade mobile app;
Choose the "Log in" form;
Enter your username and password;
If you are logging in from a new location or device, you'll need to enter a verification code, which will be sent to you via SMS;
Enter the code, if needed;
Sometimes, you might need to solve Captcha to enter to prove that you are not a robot;
That's it, you've successfully logged in to your account and are free to start trading;
We'd also recommend you complete a two-factor authentication via Google Authenticator or SMS—to make your account and funds more secure. After all, you can't be too careful with your data in the modern age.
As you can see, both processes are easy, and with them completed, it is time to get to the meat of what Olymp Trade mobile apps have to offer to you.
What Features Does It Offer?
The main attraction point of every single trading app out here is its functionality. How many features does it offer? How many assets can I trade? What tools would I have in my arsenal? We'll answer all these questions in this section as we take a closer look at the Olymp Trade mobile platform.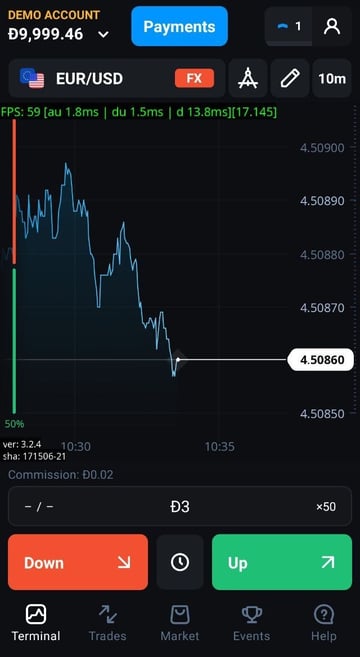 Assets
In terms of assets, the mobile version of Olymp Trade is no different from the desktop one.
It has the same variety of currency pairs, stocks, indices, commodities, and cryptocurrencies—all available for trade. Here are some of the most popular ones:
Currency Pairs: EUR/USD, GBP/USD
Stocks: Apple, Tesla, Google, Microsoft
Indices: S&P500, Dow Jones
Metals: Gold, Silver
Commodities: Brent, Natural Gas
ETFs, Crypto, and many more.
Trading Tools
To help traders make the best profit out of their deals, Olymp Trade offers many tools for them to use:
Custom strategies to figure out the trend and find an entry point;
Advisors that give you signals when to start and end the trade;
Indicators and Oscillators that help you understand the current market conditions;
Custom drawing tools so that you can conduct your own technical chart analysis;
And much more.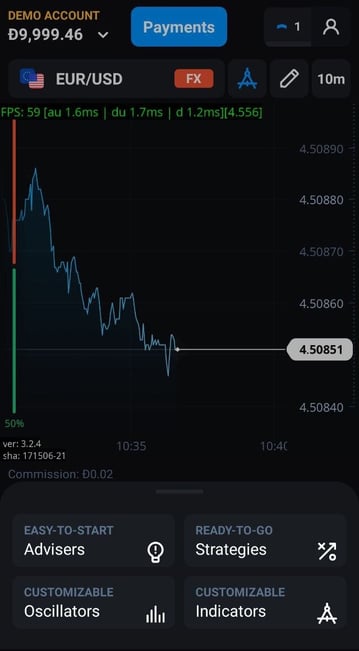 All in all, with the Olymp Trade mobile app, you'll get the same experience as a professional trader on a laptop, if in a more compact form.
Demo Account
And now that you know the basics about assets and tools you'll be using, it is time to go out there and trade. But how can you do that without risking your money? That's where the Olymp Trade Demo Account comes into the picture.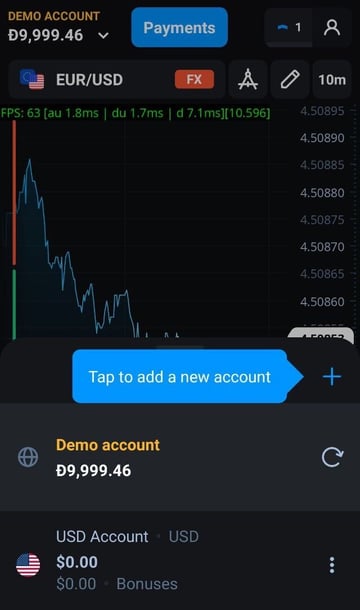 It is a special training account where you can learn how to trade, use available trading tools, practice your strategies, and so on. And you can do all that without risking a single cent. All registered users get access to replenishable 10,000 digital currency on Demo Account that they can use. And once you feel ready, you can switch to a live account, make a deposit, and trade to your heart's content.
Is Olymp Trade Mobile App Different from a Web Version?
As you can guess, our platform's web version would look different from the mobile one, as the latter will need to accommodate for the smaller screen and a touchscreen control over the mouse and keyboard.
So the design is reworked, the trading controls are optimized for mobile users, and much more small Quality of Life improvements are made to offer you a seamless trading experience on small screens.
Simultaneously, mobile apps have the same basic functionality and advanced features that desktop users can enjoy. Olymp Trade Market, Trader's Way, Multi-currency Accounts, and so on—all are available for traders who use mobile devices. So their ability to make a profit isn't hampered, and they can enjoy the same level of success as those who trade from a laptop.
And that's about it about whats, hows, and whys of the Olymp Trade mobile app. We've covered the essential points of its use and features, and we hope that you've got everything you need to start trading right there.