---
OTC is a non-news thing in the world of trading. In the classical sense, this term means over-the-counter trading. Until recently, the OTC market meant a market where you could buy or sell shares of dubious companies or those companies that do not report their earnings.
Trading on OTC assets has been lately actively developing. One example of this is the emergence of a new type of blockchain project dedicated to decentralized financial systems (DeFi).
However, today, classic assets are also becoming OTC.
What Is OTC Trading?
OTC (Over the Counter) Market is a decentralized chain (system) of financial institutions, which may include brokers, market makers, liquidity providers, traders, and other market participants who need to make trades all the time, even on weekends.
OTC pricing is more dynamic since the quotes are affected by a smaller number of participants.
Here is an example of a real over-the-counter trade made on bitcoin. Let's imagine that there are 10 major holders of this cryptocurrency. They have agreed to unite in a community and sell bitcoin in large numbers, no less than 10 coins. But to attract larger buyers, this community offers a 5% discount on the current market price. In other words, this group of investors has organized their own market on their own terms.
We conclude that OTC trading refers to trading on valuable assets outside of regular platforms and trading hours. The execution prices may be different from the market prices.
Which OTC Assets Can I Trade on Olymp Trade?
Right after the main Forex trading session closes, Olymp Trade offers customers to trade on 8 OTC assets, including AUD/USD, EUR/USD, GBP/USD, Gold, NZD/USD, USD/CAD, USD/CHF, USD/JPY. Trading on these assets is available in the Fixed Time Trades mode.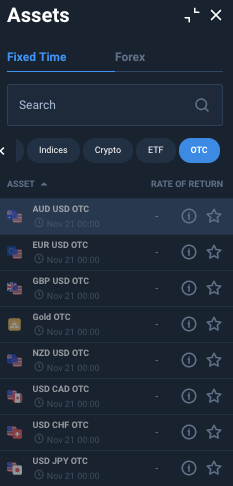 When Are the OTC Assets Traded?
Forex trading session starts around 21:00 UTC Sunday and lasts without interruption until 21:00 UTC Friday. Trading on OTC assets begins right after the main session and lasts 48 hours. You can see the exact schedule for your time zone in the asset information (go to the "Help" menu, then select "Assets," choose the asset and go to the "Schedule" tab).
Can I Use the App for Trading on OTC assets?
You can use the official Olymp Trade apps for iOS and Android to trade on OTC assets without any restrictions. We would also like to remind you that you can trade on cryptocurrencies on weekends.