---
You have definitely found yourself having an excellent trading idea and not having enough funds. But if you clearly see how the situation is going to develop on the cryptocurrency market, then why should something prevent you from gaining profit?
In this article, we will tell you how to realize your most daring trading ideas, even if you do not have enough money to invest.
Motivation is extremely important
It is important to stay motivated when trading. And nothing motivates an investor better than money. Making a couple of dollars a day will not give you enough energy. Therefore, you can (and you need to) use a special financial tool — a multiplier.
Multiply your returns up to 10 times.
Imagine you have analyzed the chart correctly, and bitcoin has risen from $ 6000 to $ 6,500. If your investment amount is $ 10, your profit will be 83 cents minus a commission. If you invest $ 100, it will bring you $ 8.3. Can you do better?
Yes, you can gain more
The Olymp Trade platform user can multiply his investment in crypto assets up by up to 10, using his own funds as security for the trade. Having only $ 100, you can open a $ 500 or $ 1000 position.
Our example of trading bitcoin with $ 100 trade size and x10 multiplier means that the profit will be not $ 8.3, but $ 83, as it will be calculated as if you were investing $1000.
However, if the market goes against you, your losses will be also amplified and you could lose more than you invested. So, we recommend that you don't ignore the risk management rules.
For reference. When using a multiplier, an investment position amount increases. In the table below, you can find out which multiplier is available for a particular crypto asset on our platform:
| | |
| --- | --- |
| Asset | Multiplier |
| Bitcoin | х5, х10 |
| Ethereum | х5, х10 |
| Monero | x5, x10 |
| Ripple, Bitcoin cash, Litecoin, Ethereum classic, Zcash, Dash, Bitcoin cash | x5 |
| LTC/BTC, ETH/BTC | x5 |
How to add a multiplier?
To add the service, go to your account profile and select the multiplier option.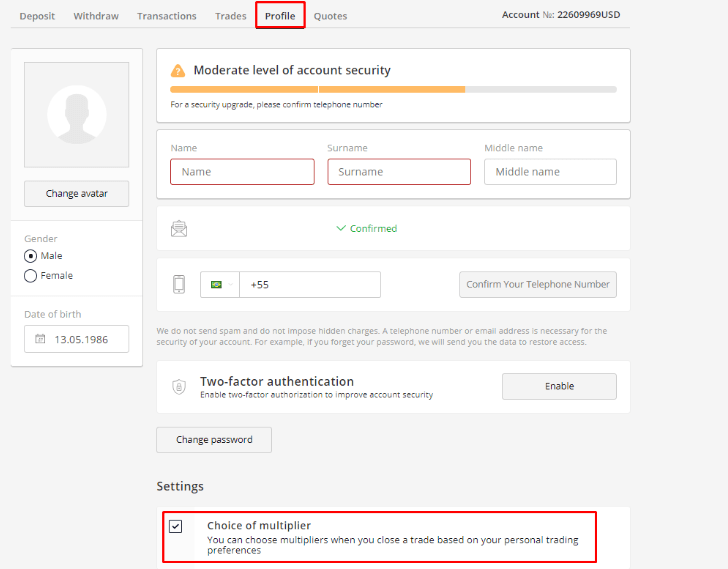 How to use a multiplier?
After you have added a multiplier, you can set the desired multiplication rate in the trade menu. For example, there are two options when trading Monero: x5 and x10. If we choose x10 and invest $ 100, the total transaction volume will be $ 1000.
After opening a position, you can check in the "Trades" bar which multiplier was used.

Are you ready to throw yourself into trading cryptocurrencies in a big way? Then it's time you activated a multiplier!
Start trading