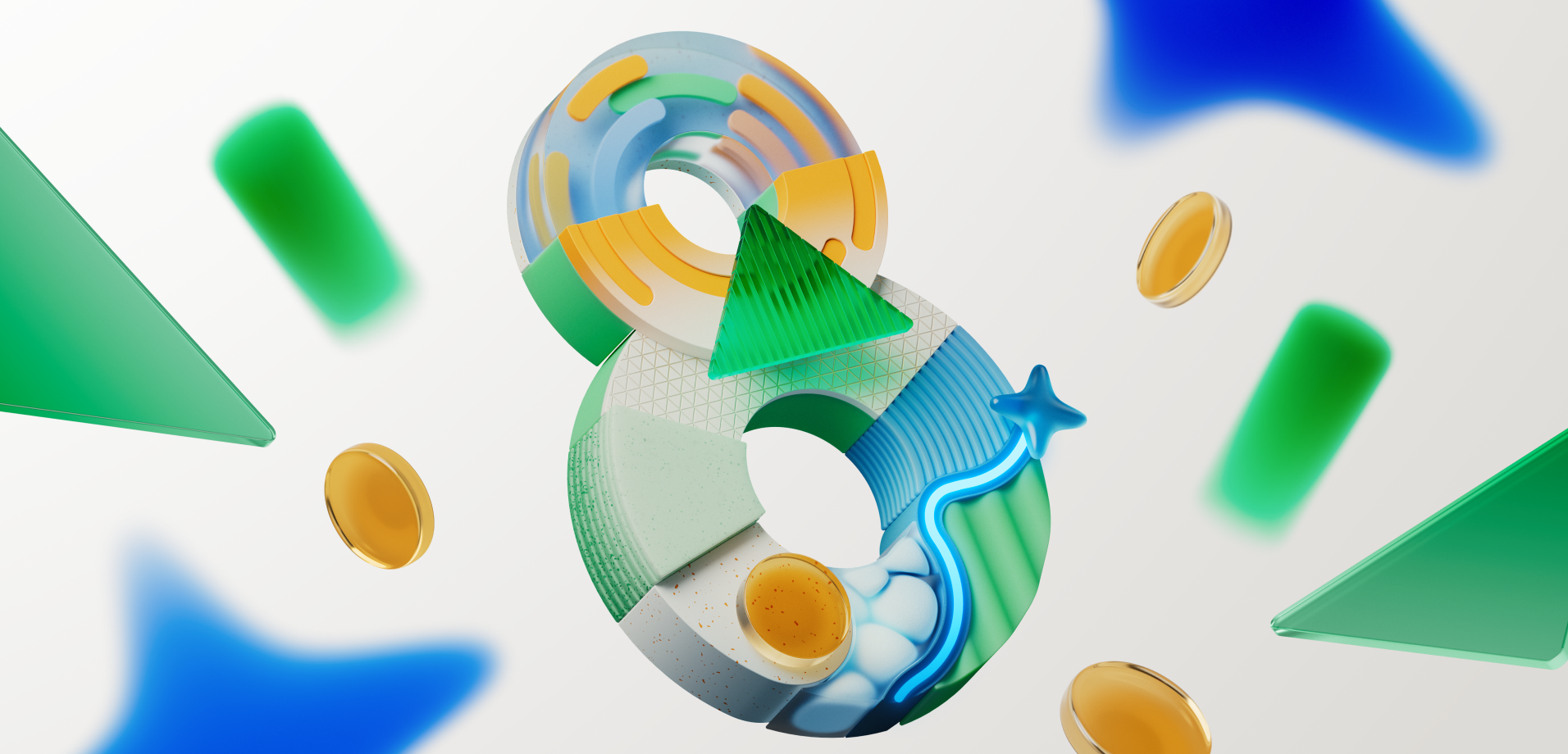 This year marks eight years of Olymp Trade! As always, we're celebrating with those closest to us — you, dear traders! Share in the festivities with us and win prizes! 🎂
Don't forget to follow our Facebook, Telegram, Instagram stories as well as the Olymp Trade YouTube channel so you don't miss out on the fun! 🎉
Contents:
🤳 B-day Quest
As well as an occasion to celebrate, our birthday is a great opportunity to win gifts and prizes.
From Oct. 20 to Oct. 31, we will be running a holiday quest on Facebook Global.
Each participant who fulfills all the tasks is guaranteed to receive prizes, and quest winners can expect special gifts! Get an unforgettable drive, a new kind of trading experience and unparalleled excitement from participating in the contest!
💸 Crypto cashback
From Oct. 24 to Oct. 30, we will hold a Crypto Cashback promotion for everyone who uses deposits USDT for trading on Olymp Trade.
If your trading during the promotional period, for some reason, turns out to be unsuccessful, you will receive a cashback of 20% of the loss amount, up to 100 USDT. Moreover, this money can be withdrawn from the account and spent at your discretion.
👥 Stories
For eight years, Olymp Trade has been a free market for traders all over the world. We are proud that our traders are a real multicultural community of persistent and purposeful people.
We will publish the stories of our traders who have reached their dreams thanks to trading on our platform.
They will be sharing how Olymp Trade allows you to upgrade your trading skills, causes a flurry of emotions, and has improved their lives.
🎁 Special gifts for the most active traders
Trade hard and regularly to become an experienced trader.
Depending on the volume of transactions and experience, we have prepared unique gifts for the most active traders who want to set themselves apart.
We are grateful to all the traders who have been with us all these years, believed in us and inspired us to improve our platform. Improve your trading skills and be rewarded with Olymp Trade.
🎊 Join now!
Join the festive events in honor of the eighth anniversary of Olymp Trade and share the joy with us. Read the news on our blog, social networks and platform stories! Feel your freedom with Olymp Trade and enjoy it — you earned it!
Join Olymp Trade
Risk warning: The contents of this article do not constitute investment advice, and you bear sole responsibility for your trading activity and/or trading results.